where engaged

learning happens.
Always-on, inclusive, secure virtual classrooms for higher education designed to recreate high-quality, small group collaborative experiences, even in a large-scale environment.
Integrated interactive tools, including quizzes, polls, and content sharing, as well as table seating arrangements, drive active learning and build community. Data-driven insights optimize learner experiences in real-time. Seamless integration with the most popular Learning Management Systems.
Built by educators, it's learning reimagined.


Built To Create Community Through Social, Flexible, and Active Learning
Small collaborative groups support dynamic, frictionless interactions that coexist within a larger class setting, much like study groups in a well-designed active learning classroom.
Learning groups of two to 10 per table
Polls and quizzes integrated into class materials, no need for additional tools
Synchronized, high-quality video clips controlled by the instructor
Open and moderated class group discussion modes
Peer-to-peer instruction without interfering with the learning environment

Designed for
Digital Inclusivity
Cloud-based access for all students, including those without the newest computers, mobile devices, or the fastest internet connections. Browser-based technology requires no installation.
Seamless support for hybrid classes and synchronous/asynchronous instruction
Reduced bandwidth requirements to provide a consistent, high-quality experience
Class sessions recorded with closed captioning for interactive and collaborative, asynchronous access via an Engageli Study Hall

Developed for
Multi-Modality

One platform for all teaching modalities.
Synchronous
Asynchronous
Hyflex / Blended
In-person
Built-in interactive recordings for play back.

Designed for accessibility and to protect student privacy. State of the art encryption.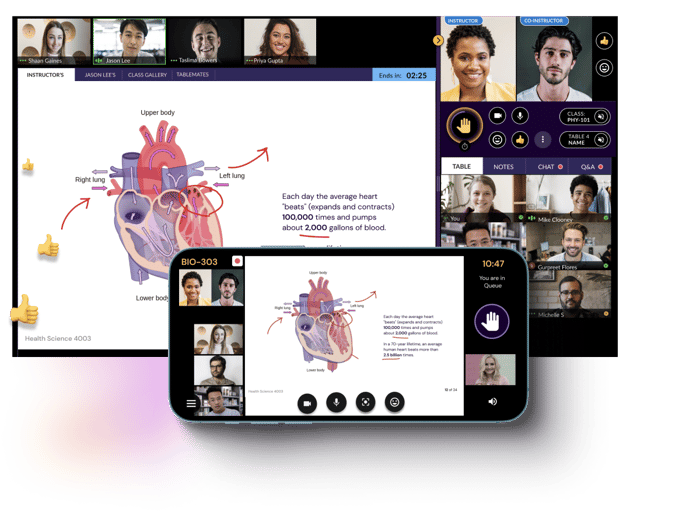 1
Setup
Create a virtual classroom, or optionally, integrate with LMS
2
Launch
Share secure virtual classroom links with learners and co-instructors
3
Engage
Interact with learners through interactive polls and quizzes

Communicate with learners through class discussion, chat, and nested Q&A

Collaborate through shared documents
4
Optimize
Update table seating dynamically based on student activity and interactions
Access dashboards and downloadable reports for live engagement, sentiment, and feedback monitoring
Analyze student participation based on attendance, hand raises, chat, poll, and quiz response
SEE WHAT PEOPLE ARE SAYING
Dr. Carlos Delgado Kloos
VP for Strategy and Digital Education, Universidad Carlos III de Madrid
"We need online tools that support classes, not just meetings. Engageli represents the next level in platforms for teaching and learning."
Prof. Jonathan Shaw
Director, Disruptive Media Learning Lab, Coventry University Group
"As we craft our strategic directions for the future, we need to be intentional with our EdTech ecosystem. Engageli supports our vision to reimagine the learning experience for all our students."
Dr. Theodora Christou
Law Lecturer, Queen Mary University of London
"I finally have an easy way to lead meaningful group work and case studies. I would choose Engageli over any other existing tool that my university offers."
Dr. Rachel Trana
Assistant Professor of Computer Science, Northeastern Illinois University
"Engageli provides a unique duality for online education by allowing me to easily shift between flexible peer-based working groups and one-on-one interactions with students who need individualized attention. This facilitates a cooperative and more inclusive learning experience that is especially beneficial in a diverse classroom with underrepresented minority students."
Joseph Simons- Rudolph
Assistant Teaching Professor, North Carolina State University
"Engageli setup expands my ability to increase meaningful small group interaction during class in both online and face to face environments. With Engageli, I also have a better sense of what goes on with my students, the engagement monitors provide a quick sense of when I need to increase engagement or start an exercise."
Nick Barniville
Associate Dean, Programs and Director, EdTech Lab
"It is time for new and better ways to support flexible, accessible and authentic education in the new world of learning. We are looking forward to implementing the Engageli experience platform that is designed with the learners in mind, whether they are joining us live from Berlin, Kigali, Accra, Cape Town, Nairobi or Los Angeles."
W. Brian Barrett, Ph.D., CFA
Associate Professor and Department Chair, Department of Finance
"Engageli offers several great functions. The most important feature for me is the way it uses tables. Unlike other web-conferencing software, where breakout groups are slow and awkward and break the contact with the rest of the class, Engageli's tables act more like real tables in a face-to-face classroom. For synchronous online work it is the best I have used by far."