We are honored to feature a guest blog post from Universidad Carlos III de Madrid (UC3M)'s Digital Team. This article on "Engageli: a tool for active learning" was originally published on UC3M's "Teaching 2.0 Best Practices" blog (para leer en español, haga clic aquí).
What do you think of the videoconferencing tools that we usually use for teaching? Have you ever wanted to carry out participatory activities with your students that a traditional video conferencing platform has not allowed you? Would you like to learn about a tool specifically developed to teach online or hybrid classes? In this post we present Engageli, a very interesting alternative to all the video conferencing platforms as it's designed and developed to teach online and encourage active learning.

Since the arrival of the pandemic caused by COVID-19, we have not stopped using and experimenting with countless video conferencing platforms: Zoom, Teams, Collaborate, Meet... The list of these types of tools is enormous! And many of them made it possible during confinement to teach online classes around the world. But… are they really platforms prepared for virtual teaching?

The platforms that we usually use to teach online classes are tools focused on management that were created to hold, mainly, work meetings or conferences online. However, they have also allowed other uses such as synchronous online teaching.

The limitations with these platforms begin to emerge when we introduce methodological elements of active teaching, when our students have to participate continuously and constantly in a session, or when we want to develop different group dynamics and activities in the same online class session.

In order to overcome these limitations, Engageli was born, a comprehensive learning environment designed to promote active and collaborative learning.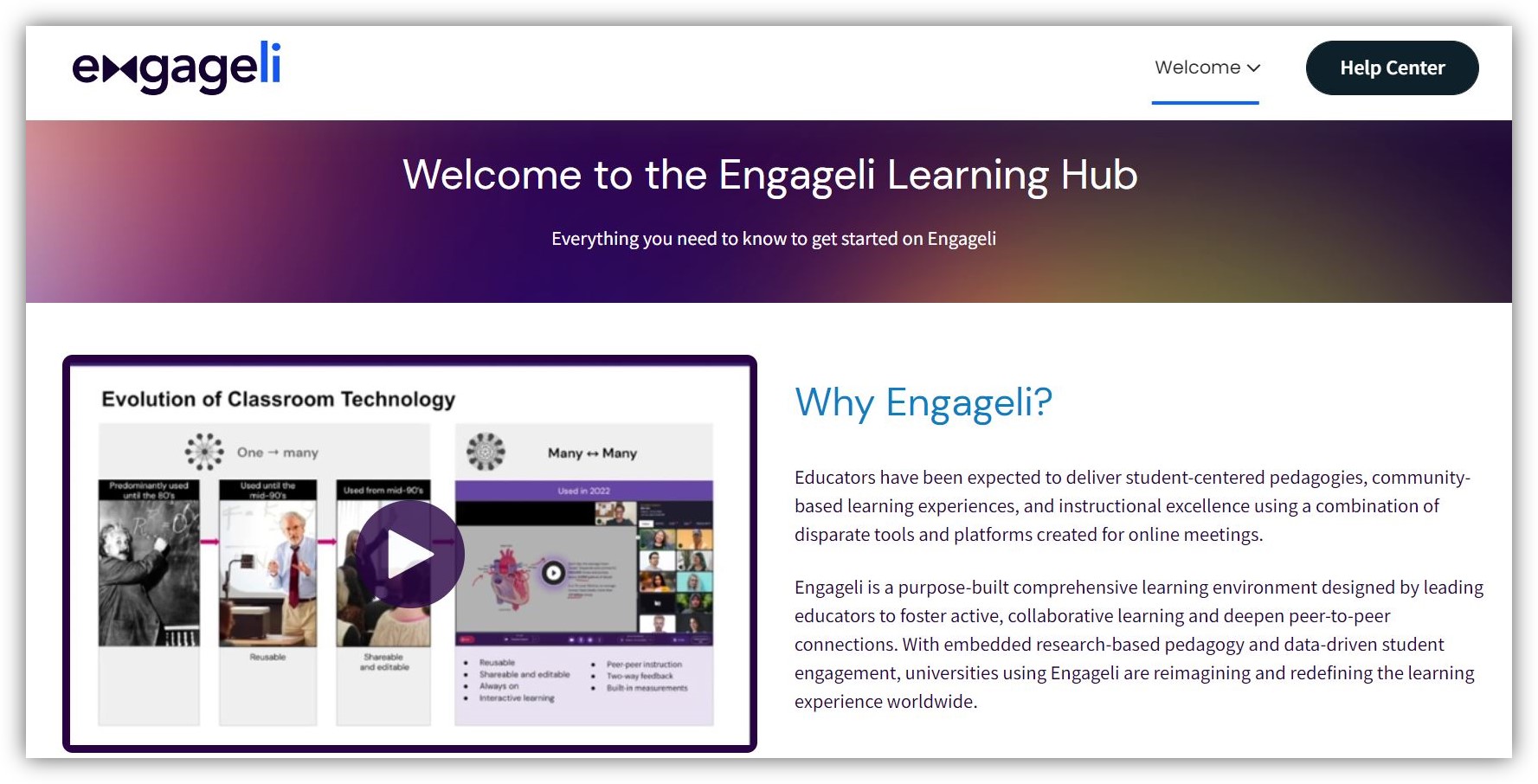 Engageli brings great value to online or hybrid teaching as it facilitates collaboration between students and encourages active participation in the classroom.
For the student, Engageli allows:

Sitting virtually at shared tables with other colleagues.

Working collaboratively with colleagues at the same table.
Talking with your tablemates without being heard by the rest of the class.
Take notes from the platform itself to add screenshots of the teacher's presentation.
Raise your hand to speak in front of the whole class.
Give quick and continuous feedback to the teacher through the available icons.
Actively revive the class on a deferred basis, taking notes on the platform and participating in the surveys.
On the other hand, for the teacher, Engageli allows:
The possibility of directing the attention of the students towards the different elements of the class: to the presentation, to the work table, to the rest of the classmates...
Distribute the students by groups in pre-configured work tables.
Share different documents for each group or work table.
Manage the audio of the students to adapt it to different activities: that everyone listens to each other, that they only listen at the work tables, etc.
Perform all individual and group dynamics within the main room without the need to go out to separate rooms or groups.
Monitor class participation and motivation.
Quickly create and share quizzes with students.
Download attendance and participation data for each session.


Do you think this tool could be useful for your teaching?
About UC3M: UC3M is an innovative public university, committed to the advancement of society through its cutting-edge research and high quality academics, adhering to the most rigorous international standards. It is ranked as the best young university in Spain, and holds the 22nd spot worldwide in the QS Top 50 Under 50 classification. UC3M is among the top universities worldwide in the THE Young University Rankings and is number two in Spain in general performance according to the U-Ranking 2018. Founded in 1989, it has an enrollment of 20,000 students on its 4 campuses, 20 percent of whom are international. Universidad Carlos III de Madrid ranks first in student mobility within the framework of the Erasmus+ programme.
Engageli: una herramienta para el aprendizaje activo
Tenemos el honor de presentar una publicación de blog invitada del equipo UC3M Digital de la Universidad Carlos III de Madrid (UC3M). Este artículo sobre "Engageli: una herramienta para el aprendizaje activo" se publicó originalmente en el blog "Docencia 2.0: buenas prácticas de la UC3M.
¿Qué te parecen las herramientas de videoconferencia que habitualmente utilizamos para la docencia? ¿En algún momento has querido realizar con tus estudiantes actividades participativas que la plataforma de videoconferencia no te ha permitido? ¿Te gustaría conocer una herramienta específicamente desarrollada para impartir clases online o híbridas? En esta entrada te presentamos Engageli, una herramienta diseñada y desarrollada para impartir docencia online y fomentar el aprendizaje activo.

Desde la llegada de la pandemia producida por la COVID-19 no hemos parado de utilizar y experimentar con infinidad de plataformas de videoconferencia: Zoom, Teams, Collaborate, Meet… ¡La lista de este tipo de herramientas es enorme! Y muchas de ellas posibilitaron durante el confinamiento la impartición de clases online en todo el mundo. Pero… ¿son realmente plataformas preparadas para la docencia virtual?

Las plataformas que habitualmente utilizamos para impartir clases online son herramientas enfocadas a la gestión que fueron creadas para mantener, principalmente, reuniones de trabajo o conferencias en línea. No obstante, también han permitido otros usos como la docencia online síncrona.

Las limitaciones con estas plataformas empiezan a surgir cuando comenzamos a introducir elementos metodológicos de docencia activa, cuando nuestros estudiantes tienen que participar de manera continua y constante en una sesión o cuando queremos desarrollar diferentes dinámicas de grupos y actividades en una misma sesión de clase online.

Con el fin de solventar estas limitaciones nació Engageli, un entorno de aprendizaje integral diseñado para fomentar el aprendizaje activo y colaborativo.
Engageli aporta un gran valor a la docencia online o híbrida, puesto que facilita la colaboración entre estudiantes y fomenta la participación activa en el aula.
Para el estudiante, Engageli permite:
Sentarse virtualmente en mesas compartidas con otros compañeros/as.
Trabajar colaborativamente con los compañeros/as de la misma mesa.
Conversar con los compañeros/as de mesa sin ser escuchado por el resto de la clase.
Tomar notas desde la propia plataforma a las que ir añadiendo capturas de pantalla de la presentación del docente.
Levantar la mano para tomar la palabra ante toda la clase.
Dar feedback rápido y continuo al docente a través de los iconos disponibles.
Revivir en diferido la clase de manera activa, tomando notas en la plataforma y participando de las encuestas.
Por otro lado, para el docente, Engageli permite:
La posibilidad de dirigir la atención de los estudiantes hacia los diferentes elementos de la clase: a la presentación, a la mesa de trabajo, al resto de compañeros/as…
Distribuir al alumnado por grupos en mesas de trabajo pre-configuradas.
Compartir documentos diferentes para cada grupo o mesa de trabajo.
Gestionar el audio del alumnado para adecuarlo a diferentes actividades: que todos se escuchen entre sí, que solo se escuchen en las mesas de trabajo, etc.
Realizar todas las dinámicas individuales y grupales dentro de la sala principal sin necesidad de salir a salas o grupos separados.
Monitorizar la participación y motivación de la clase.
Crear y compartir de manera rápida una encuesta con los estudiantes.
Descargar datos de asistencia y participación de cada sesión.
¿Crees que podría ser útil esta herramienta para tu docencia?
Sobre UC3M: La UC3M es una universidad pública innovadora, comprometida con el avance de la sociedad a través de una investigación de vanguardia y una formación académica de alta calidad, apegada a los más rigurosos estándares internacionales. Está catalogada como la mejor universidad joven de España y ocupa el puesto 22 a nivel mundial en la clasificación QS Top 50 Under 50. La UC3M se sitúa entre las mejores universidades del mundo en THE Young University Rankings y es la número dos de España en rendimiento general según el U-Ranking 2018. Fundada en 1989, cuenta con una matrícula de 20.000 estudiantes en sus 4 campus, el 20 por ciento de los cuales son internacionales.