Introduction
The University of Southern Queensland (UniSQ) is a regional university based in Toowoomba, about a 1.5-hour drive west of Brisbane, Australia. UniSQ offers courses in law, health, engineering, the sciences, business, education, and the arts. In 2000-2001, it won the Australian University of the Year for "Excellence in the e-World" by positioning itself at the forefront of modern learning delivery methodologies and commitment to choice for students (on-campus, off-campus, and online), that strive to provide equal quality and outcome.
As a leader and innovator in online education, UniSQ has continued to build and adapt learning modes and approaches influenced by emerging technologies and global priorities. Over 70% of students study all or part of their programs online. Because of this, there was minimal negative impact on student access to learning during the global pandemic. An adaptable learning management system (Moodle) and rigorous learning design resulted in effective transference of learning where required from an on-campus mode to online. Connection, communication, and student interaction were assured, however, in today's competitive online learning marketplace being "assured" that systems and connections "work" for students is not enough - what is needed is affirmative action to build a unique virtual learning ecosystem and to support teachers and students with the best ways to use that system. This virtual learning ecosystem relies on the application of a basket of educational technologies. The bespoke nature of disciplines and programs requires different approaches and uses of technologies - one size does not fit all.
Flexibility in approach is fundamental to an environment of innovation followed by evaluation and consolidated implementation. At UniSQ, partnerships between schools, academics, ICT and what we call the Technology Demonstrators program affords the piloting of new ideas and a rich collaboration for all stakeholders.
The UniSQ Virtual Campus
Moving into the third decade of the 21st century, UniSQ is keen to consolidate past best practices by committing to what is called the "Virtual Campus," a "digital-first" and HyFlex approach to learning and teaching. In order to enable learning anywhere, anytime, and with "online" as the core space for learning, UniSQ's Virtual Campus master plan includes a differentiated student experience through intuitive spaces and technologies with the goal of maintaining a reputation for digital innovation. This includes virtualisation of the on-campus experience, such as remote access laboratories and virtual simulation tools, while providing juxtaposition and blending of online and on-campus learning. Online, the virtual campus, provides personalization and maximum flexibility within clear student guidelines and expectations. It opens doors and provides accessibility for rural, regional, and remote (including international) students. Additionally, the three physical campuses have an important role to play as a gathering place for collaboration and participation in physical, synchronous events and learning that is more difficult online, such as clinical requirements for nursing or paramedics. The Australian government is requesting universities to prioritize virtual learning, given evidence of confusion during the pandemic with some institutions. UniSQ is already doing this with clear virtual campus capacity and plans for ongoing updates and innovation to further encourage students - local and global - to learn with us.
Representation of the four UniSQ campuses, Figure 1, positions the virtual campus as dominant and permeating every other campus. The master plan provides for an "anywhere, anytime" approach through the use of selected digital tools vital to connecting students in both synchronous and asynchronous learning modes. As an overview, synchronous learning takes place when students are together in real-time - this could be on campus, online, or in a hybrid version (online students joining an on campus class via video conferencing or other tool). Asynchronous learning is where students are not together at the same time and utilize digital tools to connect, communicate, and collaborate with others in their own time (e.g., Moodle discussion forums, interactive tools such as Padlet or Voicethread). In a true virtual campus, asynchronous is the glue that holds online learning together. However, the asynchronous learning mode is often misunderstood and under-emphasized by those directly teaching (and learning). Asynchronous no longer has to mean alone or passive.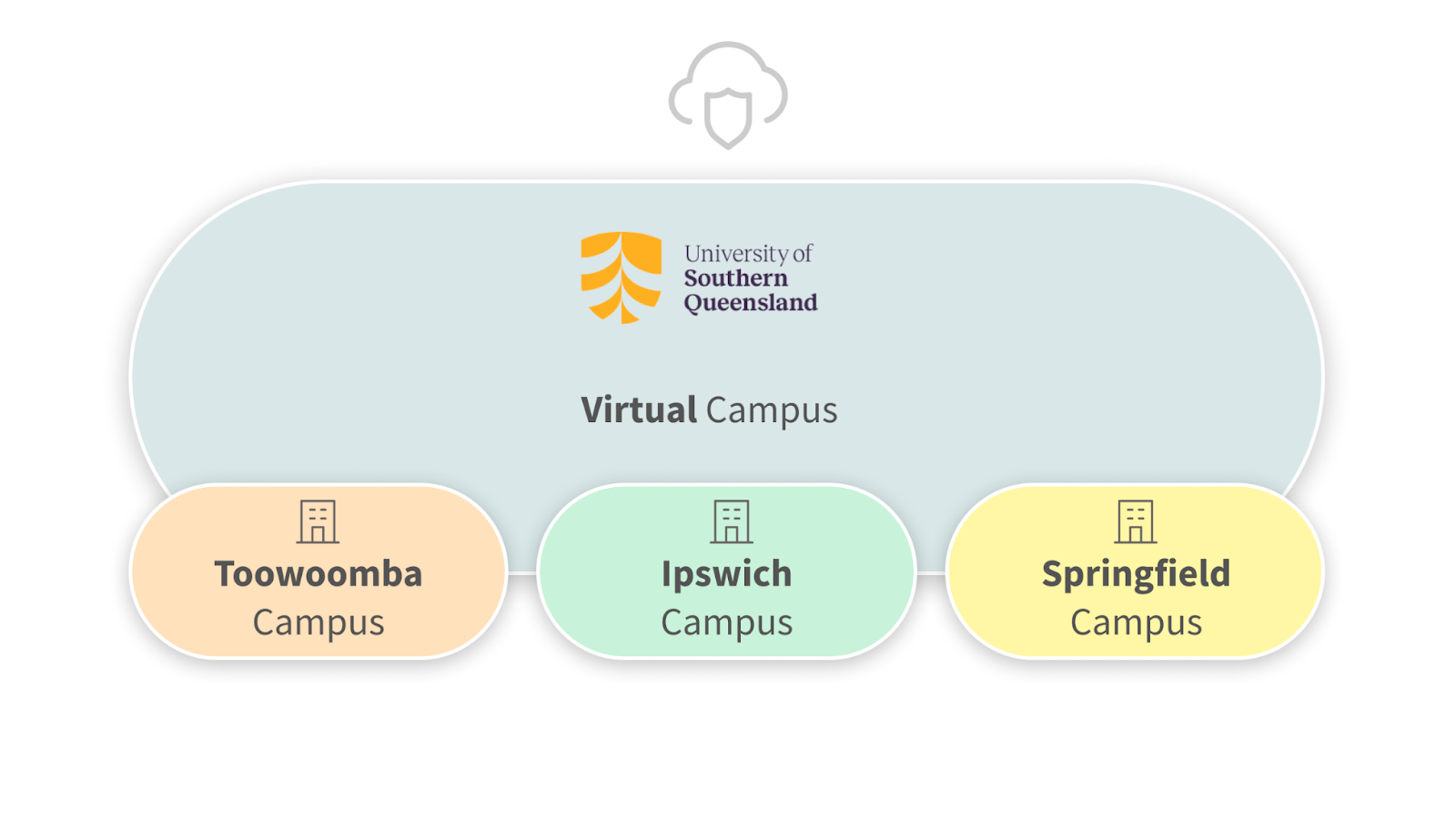 Figure 1: The four UniSQ campuses
Shifting Practice Within the Virtual Campus Environment
The anywhere, anytime, and always online virtual campus objectives are supported by digital-first learning design. This includes an architectural approach to ensure consistency in the "look and feel" of online learning portals. More importantly, it dictates that courses/programs must be designed as digital/online first - not the other way around. If the pandemic taught us anything it is the imperative of designing for virtual learning as a priority and not taking the on-campus design and 'transferring' to online. A digital-first approach at UniSQ dictates there are no lectures on campus: the lecture exists as videos shared online only and each less than 20 minutes in length. Synchronous events (e.g., tutorials) capitalize on active learning modes and apply interaction between participants with any on-campus gathering designed for collaboration or the use of special equipment.
A relatively new term has emerged in the past decade - 'HyFlex' learning. HyFlex is a combination of 'hybrid' and 'flexible' Hybrid is a combination of online and on-campus and is often called 'blended' whereas flexible is where students are given choice in how they participate and engage with the material in the mode that works best for them over the course and from session to session. A true HyFlex learning design provides the same or similar access to content, conversations, interactions, feedback, and opportunity for success. There is no "second-class" learning experience. Beatty (2019) recognises four principles of HyFlex learning when designing for a virtual campus: student choice, equivalence, reusability, and accessibility. In addition to these principles, the concept and practice of 'flat learning' (Lindsay, 2016) is a consideration at UniSQ.
"Flat" and connected learning is a multimodal pedagogical approach to learning with and from others. There is no hierarchy of learning as such; all voices are equal; no one group delivers the information to another group. It is enabled by online technologies to forge connections and support everyday workflow, communication, and collaboration. It implies that learning does not happen in isolation, that learning is social, and that learning requires making authentic and real connections, scaffolded by emerging technologies.
Shifting practice within the virtual campus ecosystem requires ongoing conversations, new design approaches and support for teachers and learners.
Challenges or Barriers to the Virtual Campus Ideal
The key challenge of a Virtual Campus is to sustain connections beyond the synchronous experience. Adopting a HyFlex approach, Figure 2, means designing learning that accounts for the relationships between 'choice' (learning mode that works best), 'flat learning' (connected, social, no hierarchy), and 'accessibility' (equality assured by embedded universal design principles). Providing for flat learning and choice ensures equivalent outcomes. Using a digital-first design strategy within the provision of choice and accessibility ensures the validity and reusability of artifacts in all learning modes. In addition, connected learning design affords the relationship between flat learning and accessibility.
Even today a certain mindset permeates virtual learning denoting synchronous as the only way to truly humanize the online experience. This is evidenced by learning design that entails three-hour online tutorials and minimal opportunities to interact beyond those. This is a systemic challenge at UniSQ and is a barrier to the "anywhere, anytime" approach to virtual learning. Overcoming this mindset involves strategies around the affordances of educational technology tools for asynchronous teacher presence and student engagement while building communities for learning that are not time and space-dependent.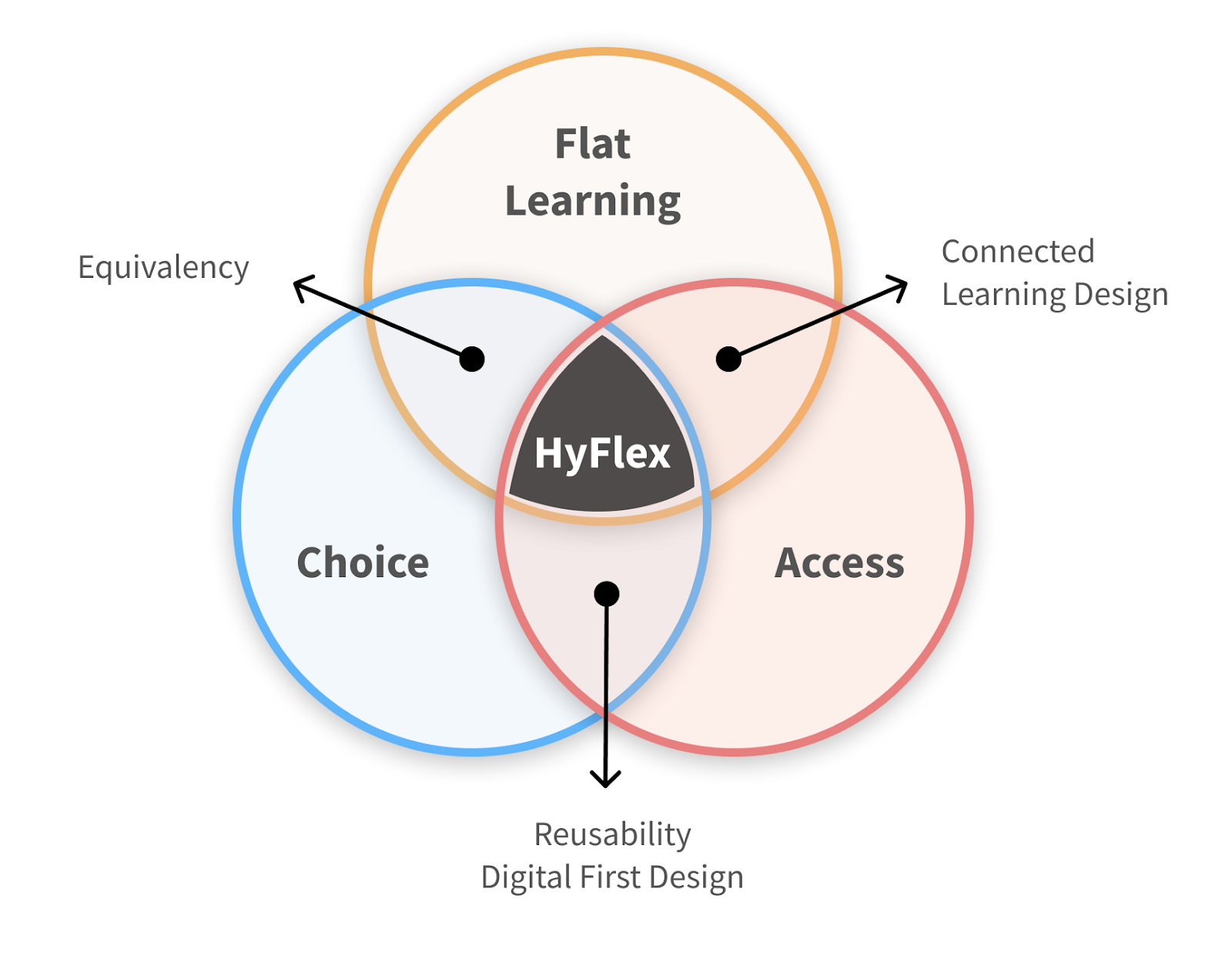 Figure 2: Attributes of HyFlex learning
Virtual Campus HyFlex Educational Technologies
Virtual Campus goals can only be sustained through the adoption of appropriate educational technologies that provide alternative opportunities for all participants and potentially shift practice to include student choice, flat learning, accessibility, and integration of new educational technologies. The learning management system (LMS) is important, but merely remains the hub connecting students to each other, to the teacher, and to the content - other digital technologies, like Engageli, are vital to implement and sustain HyFlex learning and teaching enabling students to have equivalent experiences interacting in both the synchronous class and the asynchronous 'Playback' room.
With intentional development, and the technologies to enable it, we can build a seamless experience across learning spaces, creating the most inviting campus for ALL students.

To learn more about UniSQ's virtual campus, join us for an EngageLIVE session with Dr. Julie Lindsay on July 13, 2022 at 8PM ET USA. Register here!
References
Beatty, B. (2019) Hybrid-Flexible Courses Design: Implementing Student-Directed Hybrid Classes
Lindsay, J. (2016). The global educator: Leveraging technology for collaborative learning & teaching. Eugene, Oregon/Arlington, VA: International Society for Technology in Education.

Swannell, P., Joint winner University of the Year 2000-2001