Engageli is purposefully iterating and growing our product to transform the way we can learn virtually and collaboratively. Next month, Engageli is going to see new features, an improved user interface, and some brand new functionality that sets Engageli apart from other virtual learning platforms. Here is a sneak peek at some of the new features you will find in Engageli. Stay tuned for more details and the full release next month!


Expanded Access to Engageli
We are committed to increasing access to our revolutionary learning platform by expanding the number of ways that learners can comfortably access live and asynchronous Engageli sessions. Some of the key updates include:


Multiple Platform Languages - Learners and instructors around the world who feel more comfortable with Spanish, French, and Japanese will have the option to switch their interface language in live and asynchronous sessions
Automatic Captioning Language - Closed captioning will automatically detect the spoken language to provide appropriate captions for learners in sessions of different languages
Dial-in* - Learners on the go will have the option to dial into a live session and have ability to participate in room and table discussions
Android App - The much-awaited Android app will be available on the Google Play store for learners to join Engageli from their mobile device, so now all iOS and Android learners can join from the comfort of their phones!
Collaboration Spaces
Introducing BRAND NEW functionality with Engageli's Collaboration Spaces* - bridging the gap between live and asynchronous collaboration and learning.

With our new easy-to-use course authoring tool, you can take already existing content and turn it into interactive activities in seconds! Learners can join the online collaborative spaces and complete the assigned tasks together. With Engageli's new asynchronous collaboration spaces, creating and consuming asynchronous learning content is easier and more engaging than ever! In the new collaboration spaces you can find:


Always-on playback rooms where learners can choose which group they want to join to work through asynchronous learning content
No need for a live instructor to facilitate active learning
Easy-to-use course authoring tools that allow instructors to turn existing content into interactive assignments in seconds
Collaborative asynchronous learning is possible for fully asynchronous courses or blended learning courses
AI-Powered Summaries

Engageli's new AI-powered summaries help instructors and learners become more efficient with their time! The new functionality provides users with a summary of a live session to make reviewing content easier and more effective.


Whether a learner attended a session live or not, the summaries of each live session can be available in a playback room where learners can review content alone or with peers.
The summaries make it easier to find the relevant content, and learners can add summaries to their personal notebooks.
Finding the relevant session to review is also easier with the new summaries to skim.
Hybrid Collaboration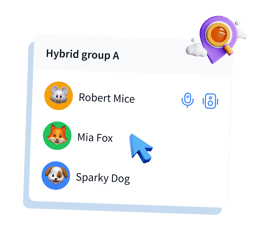 We know the new normal is some combination of virtual and in-person work, and that is why we are expanding our support of hybrid and online collaboration. Typically filling the room with lots of echoes, combined groups of in-person and online learners are now easier to manage.


With expanded support for hybrid learning use cases, users will be able to create groups of in-person learners to virtually collaborate with their online peers. Upon entry, users will be able to select Hybrid mode so they can easily alternate microphones without causing any echo.
---

Interested in experiencing these innovative features firsthand?
Join us at an upcoming EngageLIVE event!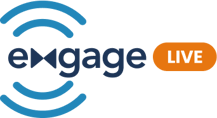 EngageLIVE is a series of active learning, thought leadership sessions hosted on our virtual learning environment.

Can't attend live? No problem! All of our past sessions are accessible through the Engageli Playback Room.