In today's digital landscape where new ideas continually reshape the field of higher education, Engageli seeks to spotlight thought leaders who are making an impact. This article, featuring the work of Nick Barniville, explores how Gomera Tech helps institutions create online education strategies and identify effective classroom engagement technology for optimal learning.
---
In the dynamic world of online education, universities and business schools face numerous challenges in building and marketing their online programs. To address these challenges, Nick Barniville, an experienced leader in European business schools, founded Gomera Tech. This consulting company aims to demystify online education and assist institutions in navigating their online and technology strategies, particularly in classroom engagement and teaching and learning purposes.
Overcoming Challenges in Digital Marketing & Program Development
With his extensive experience in leadership roles at top European business schools, Barniville understands the challenges institutions face in digital marketing and program development online. Many schools lack confidence and competence in these areas, often relying on Online Program Managers (OPMs) such as Coursera and 2U. Gomera Tech aims to empower institutions to independently develop and control their own online programs, providing them with the necessary capabilities.
In building the strategy, Gomera Tech first conducts an audit of internal systems and stakeholder ambitions for the various market segments in which the institution competes. This includes an evaluation of the internal technology ecosystem. Together with B2B and B2C clients, projects typically then establish the market perception of the institution, and the team develops strategic options. It's important here to establish the overall risk profile of the institution. Only after these steps can meaningful conversations take place on make-or-buy decisions or on technology selection.
Guiding Institutions in Online Strategy
Gomera Tech offers comprehensive online strategies that guide institutions throughout the student lifecycle, from prospect to life-long learning for alumni. This includes selecting the right technology solutions for student management and learning management systems. By leveraging Barniville's expertise, institutions gain valuable insights into crafting effective online strategies that align with their goals and objectives.
A recent project saw a traditional university client needing a full technology ecosystem for a new online university that they were launching. The university had already decided on which programs to launch but needed help in choosing which platforms would deliver the right experience across the student life cycle. The Gomera team built the RFP, interviewed a long list of suppliers, and guided the client through the final technology selection and commercial negotiations.
Identifying Suitable Technology for Classroom Engagement
One of Gomera Tech's core areas of expertise lies in technology selection for classroom engagement and teaching and learning purposes. Barniville assists institutions in identifying the most suitable technology solutions that align with their specific needs.
Typically, a classroom engagement project will start with a specific realization from a client that something is not working. It could be that dropout rates are high. But usually, it is much simpler than that. Faculty typically know from their face-to-face teaching experience exactly how a highly engaged audience behaves. Professional staff know what good teaching evaluations look like, and have sophisticated methodologies for assessing whether learning objectives are being achieved. In the transition to online or blended learning, institutions often notice this engagement drop off. The impetus could come from an individual teacher, a program director, or from the senior leadership at the institution.
An engagement project can take many shapes. The aim might be to work hands-on with a small group of faculty to re-engineer courses using best practices in online and blended learning design. Typically, this will involve a team of expert learning designers from the Gomera Tech network. The team analyzes the problem, suggests different tools which could address the issues which have been identified, and teaches the faculty how to use the various different tools in their specific courses. Tools such as Mentimeter, Padlet, and Kahoot, which are commonplace in some institutions, may be completely new in others. Faculty are then encouraged to share their experiences with others in their school. A more comprehensive project could aim to boost engagement across the entire portfolio of courses and programs. The problem might be, for example, Zoom fatigue. In this case, Barniville has successfully implemented Engageli, a digital platform that replicates the small-group in-person experience, fostering effective engagement and collaboration among students.
Staying Ahead in the Evolving EdTech Landscape
Gomera Tech thrives by keeping up with the rapidly evolving ed-tech landscape, thanks to Barniville's "network approach". By maintaining strong connections with professionals in universities, business schools, and the EdTech industry, he stays informed about emerging technologies, venture capital investments, and industry trends. He is part of Xolas, a network of consultants operating in different areas of the university value chain. He also works with Supercharger Ventures, an EdTech accelerator, to structure technology scouting partnerships with higher education institutions. This network-centric approach allows Gomera Tech to bridge the gap between technology and education, facilitating collaboration and knowledge exchange.
Embracing Future Technologies
Barniville emphasizes the importance of online presence for institutions' future success. While many universities may feel overwhelmed by the initial inertia towards change, he encourages leaders to invest time in exploring future technologies and ensuring they have the right individuals with a curiosity about what lies ahead.
Much of his spare time today is spent figuring out the wheat from the chaff in AI-enabled solutions. He sees huge opportunities in the personalization of learning and support, as well as AI-enabled automation of back-office processes and content design. Barniville's view is that outside the classroom itself, third-party solution providers who can clearly demonstrate the "why of AI" will gain traction, but that universities themselves will not necessarily be the ones who develop the applications. By embracing these emerging technologies and leveraging Gomera Tech's expertise, institutions can position themselves for success in the online education landscape.
---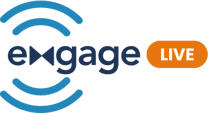 Interested in a deep dive into topics like this? Join us at an upcoming EngageLIVE event!
EngageLIVE is a series of active learning, thought leadership sessions hosted on our virtual learning environment.
Can't attend live? No problem! All of our past sessions are accessible through the Engageli Playback Room.