Next up in this series evaluating Engageli according to a rubric published in Educause for measuring the effectiveness of active learning technologies is the criteria: 'Participation.' (The introduction to the series can be found here.) In the previous post, I shared how and described why Engageli passed the criteria: 'Easy to Use.' In this post, I will describe how Engageli provides many possibilities for participation in an online learning experience.


The authors of the rubric propose that the Participation category has two criteria:


Multiple users: Multiple users can interact on the same activity at the same time
Multi-modal: The tool allows in-person and/or remote students to participate together

Engageli's features that I will share demonstrate both of the above aspects of the 'Participation' criteria.


Audio modes designed for participation: Table and Room
In order to better understand Engageli and what sets it apart from other online learning tools, I will explore the difference between the two audio modes that enable participation. Engageli allows the instructor to toggle between the two modes:

Room

: This mode is analogous to a 300-seat lecture hall. Everyone can hear everyone else. Learners can talk and have all their peers hear them.

Table

: In this mode, learners are placed at tables for 1-10 learners. Each learner can only hear the other people at their table, the instructor, and any learners who have raised their hands. This encourages students to keep their microphones unmuted since their voices can only be heard by the students at their own table.


The benefits of Table mode
Table mode is a foundational feature that sets Engageli apart. (Tables enable active learning acitivities - the last criteria of this rubric, that you can read more about later in this series.) Tables enable the instructor to break the class into groups so that they can work on a task together. They can speak without worrying about interrupting other tables. Learners can still raise their hands in order to address the instructor or class. The instructor can still see all of the learners and address them as a group while they are at their tables. The instructor can join any table with a simple click in order to talk with just those learners.


Although Table mode has some similarities with breakout rooms in other video conferencing tools, Engageli's unique tables have some key differentiators:


Instructors can address the whole class while in Table mode,
Instructors can observe all learners while they are at tables (because they are always at tables, whether or not they are in Room mode or Table mode),
The switch between table and room mode is instantaneous,
Learners can talk at their tables without disrupting the rest of the room, and
Learners can raise their hands and ask questions while in Table mode.
In short, Table mode enables and encourages students to talk among themselves, to work together, and to build relationships with each other. It is the best way that we have seen to build community in an online learning experience.


Multiple modes of participation: Polls, reactions, and chat
Engageli allows students to participate in the class in many ways— through polls, reactions, and chat. These tools allow learners to take an active role in the class and in their learning.

Engageli's built-in polls allow instructors or learners to create single-answer, multi-answer, and short-text answer questions. These can either have "correct" answers or be a tool for the instructor to determine how well students understand the material.
Engageli's reactions allow an instructor to "take the temperature" of the classroom and ask for thumbs-up/thumbs-down depending on how things are going. The instructor can see on their screen how each learner responded.
Also, Engageli's chat tool allows learners to send messages to the instructor, all the TAs (if there are any), other students at the table, or an individual person. This is just another way that students can participate in ongoing activities or get a question answered. In Engageli's newest 3.0 release, learners can even take screenshots and annotate them in the chat.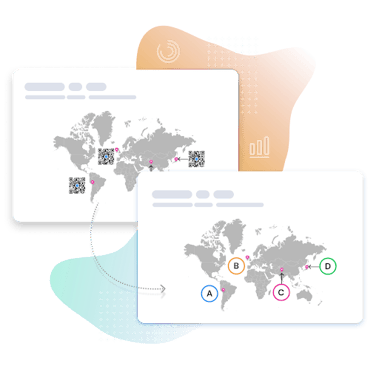 Synchronous asynchronous learning: Engageli Playback Rooms
A unique feature of Engageli is its Playback Rooms. (You can think of it as the educational application of a Netflix watch party.) Suppose that multiple learners missed a class when it was originally scheduled, but they wanted to attend it together. An Engageli Playback Room allows those learners to attend the class together. This feature allows them to listen to the lecture, watch videos, talk or chat amongst themselves, respond to polls, or work together on problem sets—just as if they were in the original live session. Learners have the opportunity to work with peers, or can attend the class on their own (and do all the the above).


Thus, they are synchronously experiencing what is normally an asynchronous learning resource. Engageli's Playback Room allows learners to extend their options for participation from the original scheduled synchronous session to future self-selected asynchronous times of their own choosing.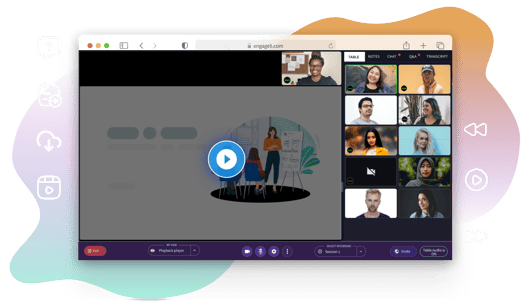 Summary

Engageli passes the second category of the rubric, Participation. The platform is designed to enable multiple users to interact together on the same activity at the same time. Engageli also enables learners who are remote to access in-person activities in real time, or as asynchronous learners.

The next post of this series will focus on the criteria 'Broadly Available.' Stay tuned to learn more about Engageli's sign-in experience, device support, downloads, and overall cost.

If you are interested in getting a live demo of Engageli, please contact partnerships@engageli.com