The Engageli Team has been on the road this fall and our next stop is Online Educa Berlin (OEB) next week (23-25 November), an annual global conference and exhibition that focuses on the latest developments in learning technology. In its 28th year, the conference is focused on "Re-imagining Our Vision for Learning". OEB promises to critically examine how technology opportunities and challenges are transforming the world of learning - it wasn't a hard decision for the Engageli Team to attend and connect with fellow thought leaders!
Over 2,500 attendees are expected across education, corporate and government sectors. They will have over 100 interactive sessions and formats from world-class experts waiting for them, as well as some exciting networking events! Our team has put together a list of sessions & events to help you make the most of your conference experience, including a session featuring our very own Engager, Talia Kolodny, who will share Engageli's insights on human-centered classrooms!
Opening Plenary OEB22
Thursday, Nov 24 @ 09:30
Speakers:
Pär Lager, Lecturer and Senior Advisor, Author of "Upskill and Reskill", Swedish Defence University
David Mattin, Founder, New World Same Humans, United Kingdom
Njeri Mwagiru, Senior Futurist, Institute for Futures Research (IFR) at Stellenbosch University Business School
Moderator:
Donald H Taylor, Chair, Learning Technologies Conference, London, United Kingdom

Powering Up the Effectiveness of Blended Learning in Higher Education
Thursday, Nov 24 @ 12:00
Speakers:
Shir Shwartz, Head of Learning Experience Design Unit, CET (The Center for Educational Technology), Israel
Denis Staskewitsch, Sales Director, Panopto, United Kingdom
Peter Dekker, Educational Consultant, Amsterdam University of Applied Science, Netherlands
Judith Vennix, Programme Manager, RUAS, Netherlands
Moderator:
Alejandro Armellini, Dean of Digital and Distributed Learning, University of Portsmouth, United Kingdom

Teaching for the Future: 10 Hands-On Teaching Tools to Boost Creativity & Innovation for Our Accelerating World
Thursday, Nov 24 @ 12:00
Speaker: Charles Wood, Professor of Marketing, The University of Tulsa, United States of America

Ukraine: Digital Transformation of Education under Martial Law
Thursday, Nov 24 @ 12:00
Speakers:
Svitlana Shytikova, Coordinator, Institute for Leadership, Innovations and Development, Ukraine
Olha Bershadska, Digital & Blended Learning Consultant at Ministry of Education of Ukraine, Ministry of Education and Science of Ukraine, Ukraine

Experiences from Distance Education from the Leading Aeronautical University
Thursday, Nov 24 @ 12:45
Speaker: Christian Janke, Assistant Professor and Program Coordinator, Embry-Riddle Aeronautical University – Worldwide Campus, Germany

Online Synchronous Delivery: How to Make it Work for Schools
Thursday, Nov 24 @ 14:15
Speakers:
Frederick Dixon, Product Manager, BigBlueButton Inc., Canada
Torkil Valla, IT-Educator, Trøndelag nettskole, Norway
Matt James, Head of Online Education, Cambridge University Press and Assessment, United Kingdom
Moderator:
Richard Powers, Project Coordinator/Instructional Designer, Professional School of Education--Stuttgart University, Germany

EnABLing Future-Focused Design for Active Blended Learning
Thursday, Nov 24 @ 14:15
Speakers:
Andy Clegg. Interim Head of Academic Development, University of Portsmouth, United Kingdom
Alejandro Armellini, Dean of Digital and Distributed Learning, University of Portsmouth, United Kingdom

Can Data Help? - Learning Analytics on the Path Towards Personalised Assessments
Thursday, Nov 24 @ 16:15
Speakers:
Feliciea Jibson, Chief Science Officer and Founder of PAGS, PAGS BV, Belgium
Arabela Ichim, Project Manager Learning Analytics, Tilburg University, Netherlands
Vesa Paajanen, Senior Lecturer, University of Eastern Finland, Finland
Moderator:
Marcelo Fabián Maina, Professor, Universitat Oberta de Catalunya, Spain

Going Digital 4.0: New Design Thinking for the Digital Transformation of Higher Education
Friday, Nov 25 @ 12:00
Speakers:
Talia Kolodny, Director of Partnerships, EMEA, Engageli, Israel
Jordan Seke, CRM Officer & CX Specialist, University of the Witwatersrand, Johannesburg, South Africa
Margaret Korosec, Dean of Online and Digital Education, University of Leeds, United Kingdom
Thomas Ahler, Special Consultant, UCL University College, Denmark
Moderator:
Lourdes Guàrdia, Deputy Dean at Psychology and Education, Universitat Oberta de Catalunya

Engagement Hacking: Evidence Based Strategies To (Re-)Engage Learners in an Online environment
Friday, Nov 25 @ 14:30
Speakers:
Katrina Kennedy, Principle Consultant, Katrina Kennedy Training, United States of America
Laura Pomares, Associate Learning Fellow , United Nations System Staff College, Italy
Moderator:
Claudia Krebs, Professor of Teaching, UBC Faculty of Medicine, Canada

What is Quality in Online Learning?
Friday, Nov 25 @ 14:30
Speaker: Keith Pond, EOCCS Director, EFMD Global Network

Schools In Digital Transformation: Measuring Digital Maturity and Quality of Online Teaching
Friday, Nov 25 @ 14:30
Speakers:
Ulla Harmaala, Pedagogical Coordinator, Kulkuri School of Distance Education (Kansanvalistusseura sr.), Finland
Papa Youga Dieng, Program Coordinator, Organisation internationale de la Francophonie, Senegal
Igor Balaban, Vice-Dean for Science, International Cooperation and Projects, University of Zagreb, Faculty of Organization and Informatics
Moderator:
Frank van den Ende, Innovation Manager, Gilde Opleidingen, Netherlands

Upgrade Your Educational Assets! Best Practices to Organise Professional Development for Technology-Enhanced Teaching
Friday, Nov 25 @ 14:30
Speakers:
Vesa Paajanen, Senior Lecturer, University of Eastern Finland, Finland
Patti Dyjur, Educational Development Consultant, University of Calgary, Canada
Hilde Gaard, Senior Adviser, Directorate for Higher Education and Skills, Norway
Hoda Mostafa, Director Center for Learning and Teaching, American University in Cairo, Egypt
Moderator:
Nives Kreuh, Senior Lecturer, Archimedes Institute, University of Applied Sciences Utrecht

Workplace Learning - The Closing Conversation: Re-imagining Our Own Vision for Learning
Friday, Nov 25 @ 16:15
Moderator: Laura Overton, CEO, International Speaker, Analyst, Facilitator, Emerging Stronger, United Kingdom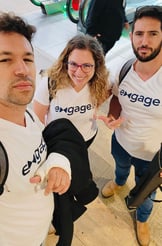 Our team is looking forward to connecting with fellow education and cooperation learning and technology professionals. We hope to see you at one of the sessions above, or join us at our exhibition booth #B20 and discuss how we can help you reimage your vision of online learning. We'd love to arrange a time to connect so we don't miss you! Send us an email so we can arrange a time to connect: events@engageli.com
See you in Berlin, 23-25 November!