Improving Access to Engageli
Connecting and learning with colleagues and peers across different locations can be difficult. As we continue to enable connected workplaces and classrooms around the world, we are committed to ensuring that all employees and students have equitable access to Engageli's active, collaborative learning environment.
We believe that learning technology should enhance access to high-quality learning.
We recently implemented some new features to expand the access of our product to learners around the world, with access to different technology, and different accessibility needs. The core areas of focus for us are:
Multiple Language Support
Multiple Platform Languages

Learners and instructors around the world who feel more comfortable with Spanish, French, and Japanese can now switch their interface language in live and

asynchronous sessions

. This enables everyone to feel in control of their learning experience and focus on the learning content. No more worrying about spending mental energy on finding the right buttons to click! Our platform is available in English, French, Spanish, and Japanese. Here is what that looks like in action:

Automatic Captioning Language

Closed captioning will automatically detect the spoken language to provide appropriate captions for learners in sessions of different languages.
Device Support
Whether a learner needs to join a session on a commute, between meetings, on a bus, or anywhere on the go, they should have the opportunity to participate fully in an engaging way. With most video conferencing technology, mobile experiences are inferior to desktop-based versions of the app. We believe all learners should be active participants in a training or classroom session regardless of their access to a device. In addition to our laptop and desktop-based browser support, we have additional support through:
Dial-in*

Learners on the go will have the option to dial into a live session and have the ability to participate in room and table discussions. This flexibility enables learners to access classes even if they do not have an internet or mobile data connection.

Mobile Apps

We now have mobile applications available for both Android and iOS devices, find our latest version of the learner app on both the Google Play Store and the App Store. The mobile apps allow learners to talk, raise their hands, participate in polls, and see the tables and their colleagues or peers. Check out what it looks like here: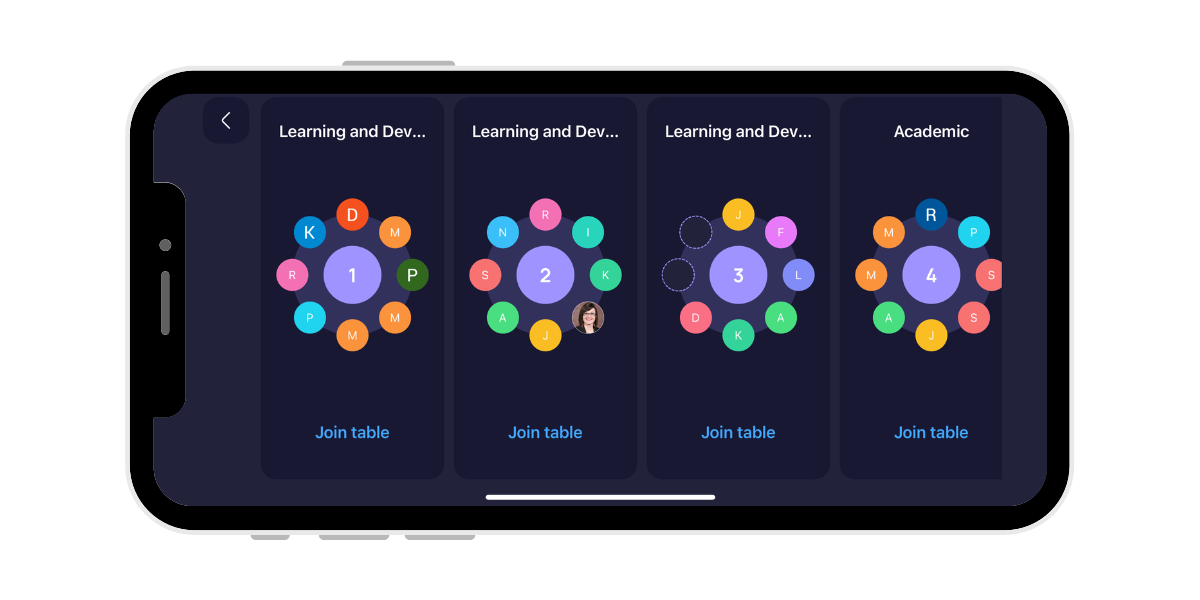 Accessibility
Accessibility in online learning is not an afterthought at Engageli. It is part of our mission and the core of our product. We have applied principles of the Universal Design for Learning (UDL) to enable learners to have multiple ways to interact with learning content and demonstrate their understanding. Everything from our unique work tables to our built-in notebook and closed captioning, Engageli is designed to support learning. We also have a suite of specific accessibility features to further expand access to our product.
Closed Captions*

Instructors and learners can enable automatic or manual captions for learners with hearing impairments to be able to participate fully in the discussions. Learners can use the chat, collaborate on whiteboards and documents
Sign Language Interpretation

Learners who would benefit from having a sign language interpreter in an Engageli session can easily choose someone's video to pin on the side of their screen. This feature makes it easy for a learner to participate in a session without any disruption or distraction for other learners. This makes accessibility possible in a virtual setting that wouldn't be possible in person.
We believe virtual working and learning environments can bring people closer together even when they are physically separated by location and time zones. But that is only possible with the right tools! Engageli is a tool that can help enable inclusive and equitable working and learning communities. If you are interested in learning more about how Engageli can support your organization, set up a time to talk to our partnerships team.
*additional costs may be applicable