We are harnessing the power of generative AI to enhance learning outcomes, collaboration, and efficiency - all while we continue to center human connections. Teaching and learning can be tedious and time-consuming. But, Engageli can empower you to do your best work and build genuine relationships through our platform. The power of AI is incredible, and we are harnessing it responsibly, intentionally, and impactfully.
Foremost AI experts on our team, including Daphne Koller and Yoram Singer, bring invaluable insight and expertise to the Engageli platform. Daphne Koller is CEO and Founder of insitro, a machine learning-enabled drug discovery and development company, and a co-founder of Engageli and of Coursera. She was previously the Rajeev Motwani Professor of Computer Science at Stanford University, where she served on the faculty for 18 years, and the co-CEO and President of Coursera. Yoram Singer is a professor in the Computer Science Department at Princeton University and a pioneer in artificial intelligence and machine learning algorithms.
We are excited to share the present and future of AI at Engageli.
Introducing AI Summaries
Engageli now automatically summarizes your meeting and class recordings within seconds to help you save you time, improve communication, and stay organized. Do you ever handwrite notes and then lose them? Or plan to send a meeting or class recap and then get sidetracked?
Introducing Engageli's AI summaries!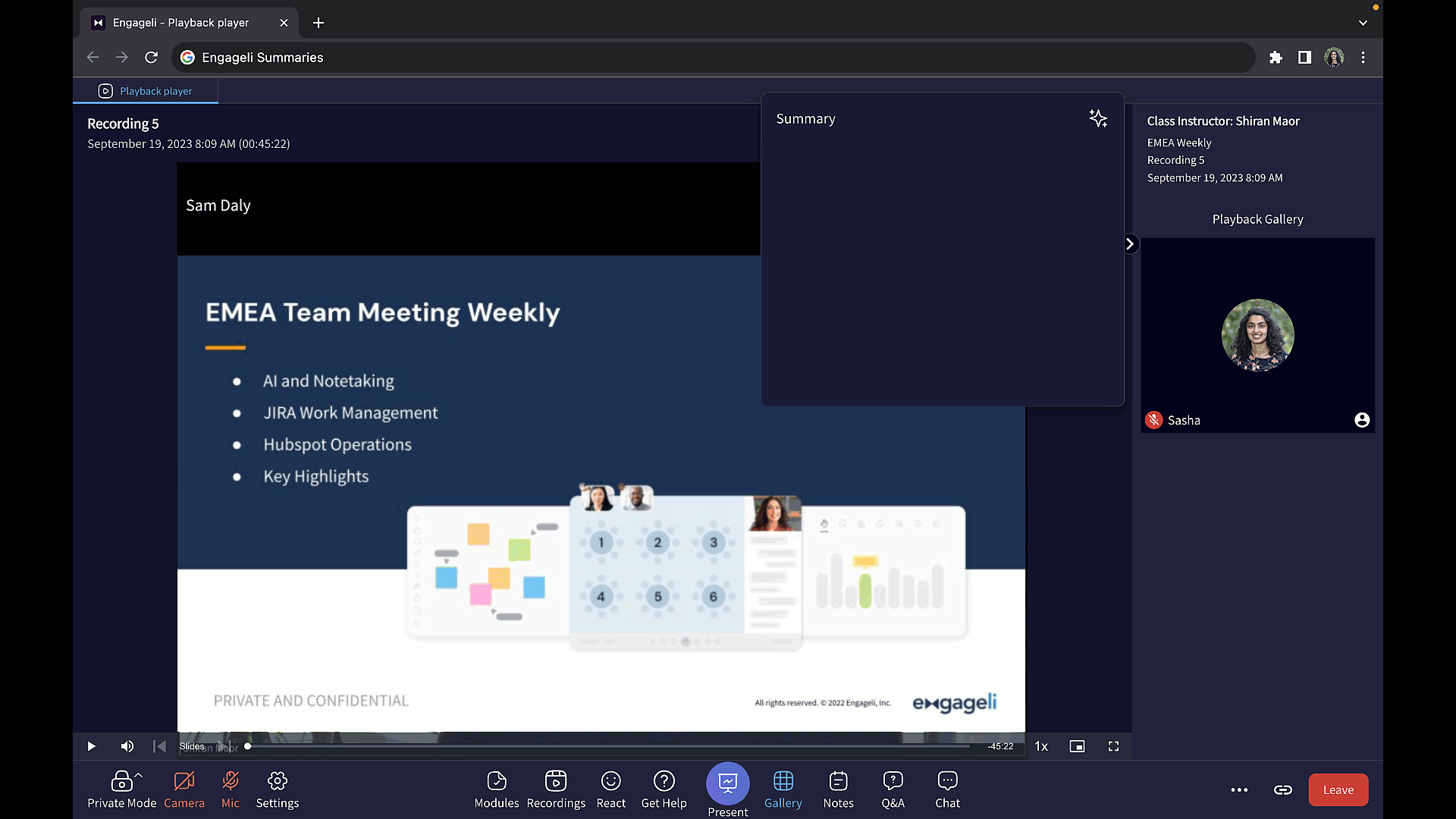 With Engageli's AI-generated summaries, you can become more efficient:
Save Time
Instead of rummaging through notes in different places to write up a class or meeting summary, you will have immediate access to an AI-generated meeting summary. These summaries highlight key points and action items and display them conveniently in your playback room alongside the session recording.
Organize Recordings
Finding the right recording at the right time becomes more difficult as you build up your repository of class or meeting recordings. With the easy-to-access summaries, you can find the information you are looking for within minutes. Skim through the summaries of each recording until you find the information you are looking for.
Share Recaps
Sharing summaries of classes and meetings is incredibly beneficial to participants to help them consolidate their knowledge and have written summaries of each of the sessions. If you have ever planned to send a recap email and then been sidetracked by other work, you are not alone! We know it can be difficult to juggle multiple different priorities. With Engageli's AI-generated summary, you can easily share recaps of sessions via email follow-up, or post them in your Learning Management System.
The Future of Engageli AI
As Engageli AI evolves, your efficiency is going to rise to new levels. Engageli AI will enable you to prepare learning content more easily, analyze engagement data with ease, and have an assistant to help you answer questions. Learners will also benefit from Engageli AI by getting answers to their questions more quickly, and focusing less on the logistical tasks. This will allow them to focus on learning and connecting with their peers and colleagues.
Here is a sneak peek into the future of Engageli AI:
AI Assistant
Your Engageli AI assistant can answer questions based on written and verbal information from your recordings, so learners can have quick access to information. The assistant can also help you draft discussion questions, content plans, and more.
Quick Polls
With AI Quick Polls, you can instantaneously generate polls in real-time to boost engagement and check for understanding. These smart-generated polls will save you time as they use the written and spoken information from your session to create questions and potential answer choices. You can save these polls and add them to the asynchronous playback rooms or collaboration spaces for learners to join and respond to alone or in cohorts.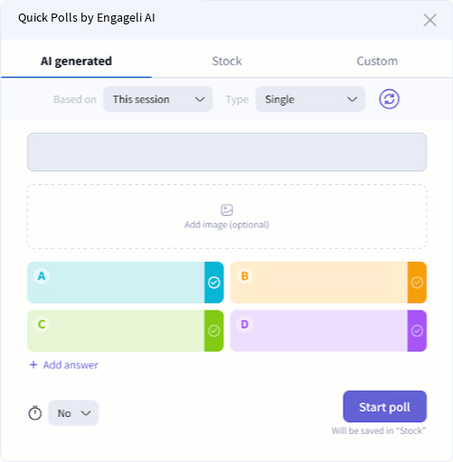 Smart Engagement Partner
Engageli's robust engagement insights paired with Engageli AI can help you tell stories with data more easily. The smart reports will help you understand how to best engage participants effectively in real-time, or after a session.
Interested in how Engageli is going to shape the future of AI in education? Chat with our partnerships team today.